Tourism Festival in Ko Lanta –' Laanta-Lanta' Festival
Different cultures and traditions of mankind are composed into one, in the annual festival called 'Laanta Lanta' ('Dazzling Lanta'), which will create the unity among people although they are different in nationalities, religions, and beliefs.

We can see happiness and enjoyment between tourists and local people in Ko Lanta, in spite of that they are completely different. This meets the purposes of the local people and the tourism business owners cooperating to go between the contrasts and to unit them into one by holding this festival. This is where people from different places around the world can gather together and have fun, no matter what nationalities and religions they are.

 'Laanta Lanta' festival is usually held on March every year, at the Old Community in Ko Lanta called Ban Sanga-Au, which has a very old history more than 100 years. Besides, the ancient Chinese style houses can still be seen here. Next to this area is the fishermen community, or 'Thai Mai' community. They were the first habitants immigrated to Ko Lanta. Tourist can see their 'Rong Ngang' dance, which is the composition of Europe and Asian traditions, singing in Malayu (Malaya) language.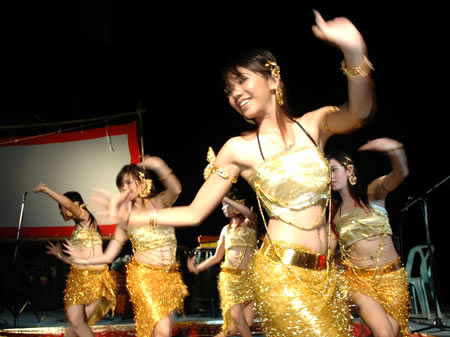 In this festival, Tourists do not only see the Southern local performance, but they can also see stage shows, such as Western Music, local dance from the Central of Thailand, and Reggae from the terrific artists. Moreover, tourists can also listen to the integrated music, from the Western Instruments and the Eastern Ones from the band called 'Assari Mala.' Various kinds of food booths, bars, etc. are also provided by famous hotels on the island. The concepts of the booth decoration is complied with the concept of the festival, which is that 'the festival that displays the culture and tradition of people in Koh Lanta.' The children's most favorable shows are pantomime, puppetry, and arts. Streets are decorated in Chinese lanterns, which help color the night to be more enjoyable and unforgettable.

'Laanta Lanta' Festival is held 3 days and 3 nights, with several amusing activities from 10 pm to late night.