A WINDOW ON KRABI
THE TOWN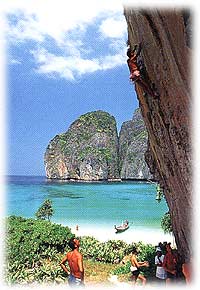 Small, charming, silent at times, nice for a day's walking tour. Krabi Town is full of old buildings, bars and restaurants, local exotic marketplaces and food stalls at the old chao Fa pier where to sample the local food. The Krabi motto is: "lively town, lovely people"; Krabi's simple people are definitely proud of their town and of their warm and generous character. Hop on a long tail boat at Chao Fa pier and visit Khao Kanab Nam, the unique pair of hills facing each other on the opposite banks of the Krabi River, symbols of the town; or embark on a journey to Ko Klang, an island next to town on the mouth of the river, where you will experience lives lived by the local fishing communities; or charter a boatman for a visit to the mangrove backwaters.
THE TEMPLE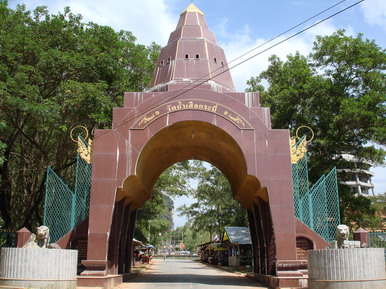 Located just 9 km from Krabi Town the Wat Tham Seua, or Tiger Cave Monastery, is one of south Thailand's most famous and interesting forest temples, as the monks live, meditate and worship within a maze of natural caves in an overgrown jungle valley. Many Thai women live out their old-age there as nuns. Explore the inner cave used by monks for meditation. Climb the 1,237 steps up a limestone tower to see the statue of the Buddha and the "footprint of the Buddha" embedded in the rock, and to enjoy one of the best viewpoints of the area. Take the circular walk through Krabi's rarest of all features, a pocket of primary lowland forest, a circular rocky basin enclosed by high cliffs. Here, along a pathway used by monks to meditate and amongst a number of magnificent trees you can be amazed in front of the largest flared root base of any tree remaining in Thailand.
NATURAL HOTSPOTS
Limestone Mountains, or karsts, characterize most of the inland Krabi area, the most spectacular being perhaps the massifs of Sai Tai. Susaan Hoi is a 40 million year-old seashell cemetery; once a large swamp where freshwater crustaceans proliferated, today home to 40 centimeter thick, shell encrusted limestone slabs, a geological uniqueness not far from Ao Nang. One must find a broken edge to see the shells clearly, since all of those on the upper surface have been walked on and worn down by the elements and are hard to identify. Khao Phanom Bencha National Park, at 20 km from Krabi Town, comprises waterfalls, streams, lush forests and caves. It is home to all kind of flora and wildlife and to the highest mountain in the region from which it takes the name. One of the features of the park is Huay Toh Waterfall where water runs down onto several huge pools.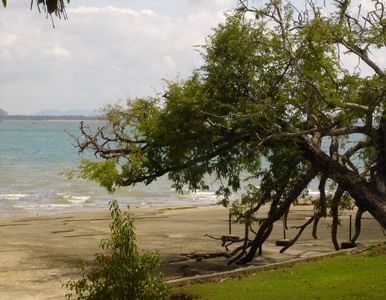 Tarnbok Khoranee National Park, in the north of the region, consists of Limestone Mountains, verdant tropical forest, caves and beautiful islands. It is well-known for its different species of trees growing around a large natural crystal clear pool, and for the hundreds of birds' species.
Phi Hua Toh Cave, in the nearby Bor Thor area, surrounded by mangrove swamps and reachable by boat or kayak, is where to see pre-historic rock paintings depicting animals and humans.
Sa Morakot, the Emerald Pool, is a natural wonder: a pond of turquoise water with an average temperature of 30-40 C, fed by a hot spring in the middle of the jungle.
Hot Springs of Klong Thom is the natural Jacuzzis in which to lift away tensions and relieve body and mind with the mineral-enriched waters falling into rocky ponds.

THE BEACHES
Ao Nang, at 20 km from Krabi Town, is the most developed of Krabi's beaches, a long stretch of white sandy beach with Limestone Mountains as a backdrop. It has a wide range of accommodation and services and the main shopping street features restaurants, bars, pubs, souvenir shops, dive centers and tour agencies, massage centers and spas. This is the hub from which to plan your trip at sea and to the nearby islands on a typical long tail boat.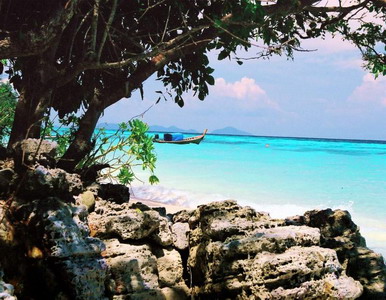 Noppharat Thara beach, just around the corner from Ao Nang, is 3km long yet still undeveloped, with only a few resorts and bars. Attractive because of its natural setting, this is where local youngsters and families gather at sunset and at weekends. Savour some local Muslim snacks at the beach stalls, or fill yourself with seafood in the local restaurants at the very end of the beach, near the Noppharat Thara National Park headquarters. At low tide, walk out together with millions of small crabs on the sandy pathways to the small islands near the beach.
Railay beaches are split and separated from Krabi and Ao Nang by monumental limestone mountains. Railay has two sides, east and west, and its settings are simply marvelous: crystal clear waters, pure sandy beaches, lush mountains, rocky islands emerging from the sea. Railay can only be reached by boat, a 15 minutes ride from Ao Nang or 30 minutes from Krabi Town. Enjoy a cocktail in one of the beach bars, visit the Phranang Cave, challenge yourself on a rock climbing course, hike the limestone massif to a lagoon and a viewpoint, or simply chill out. Neighboring Tonsai lies at the base of a cliff which divides it form Railay West. Tonsai has a shallow beach with slow gradients out to sea which is profoundly affected by the tide.
Klong Muang beach is a further 20 km away from Ao Nang; it is the up-market side of Krabi, the place to be if you are after a peaceful holiday. Catering to families and couples, it is here that you really get the so deserved repose, surrounded by pristine nature.
Tubkaek beach is another real place to hide away; long, clean and peaceful, the area has breathtaking views over Ko Hong islands archipelago, and charming sunsets. From there you can venture inside the National Park and try a walking trail to a viewpoint and a waterfall.
Ko Lanta beaches have a wide selection of resorts for all tastes and pockets. Lanta Yai Island has long stretches of gleaming white sandy beaches and shallow emerald waters. Lined with tropical vegetation, a private spot is never more than a short walk away on a southern beach at Lanta Yai.

THE ISLANDS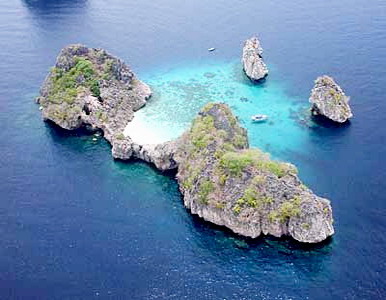 Hop on or hire a longtail, the local wooden boats with their picturesque prows. Sail away to Ko Poda, surrounded by turquoise waters, or to Ko Kai, shaped as a chicken and therefore called the Chicken Island, from where a walk on a sandy pathway connects it to Ko Tub. Make a long tail boat or speedboat trip to the Ko Hong archipelago, a group of limestone islands with hidden caves and lagoons perfect for kayaking or snorkeling. Join an organized tour to amazing Ko Phi Phi islands, full of marvelous bays, limestone cliffs, waters rich in marine life, caves where swallow nests are harvested, and much more. Visit Ko Jum and Ko Siboya, small, unspoiled tropical hide-away that have a unique atmosphere. These islands still have no electricity and no cars and give visitors the time to relax and re-charge their batteries. Or venture out on Ko Lanta, the developing island at the southern end of the province home to sea gypsies communities, where you will meet nature and tradition. A National Park area that comprises many different islands are surrounded by coral reefs, such as Ko Ngai and remote Ko Rok.
THE CULTURE
Ban Natin,on the way from Ao Nang to Klong Muang,is the place to experience the peaceful lifestyle of the local Muslim community.Home accommodation is available,or you can simply make a stopover and see the production of handmade products such as batik paintings,pineapple-fiber paper and coconut shell carving.
Wat Klong Thom Museum features various kinds of beads,stone tools,and stone and earthen ornaments in animal shapes of approximately  5,000 years old,uncovered during archeological excavations.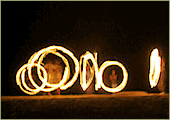 Fire dancing,part of the beach culture,is a popular evening activity on the beaches of Ko Lanta,performed by acrobatic boys who swing  burning torches around their bodies,creating sparkling artistic pictures.
Ban Sang-Ka-U is a sea gypsy's settlement in south-east Lanta Yai.It is there that an old clan of traditional Chao Ley try to preserve a disappearing way of life in this fast-developing island.