Around Lanta


Nearby Islands of Ko Lanta


• The Ko Lanta archipelago is comprised of more than 50 small isles within the area. Most of them don't have beaches, or have restricted area for bird netting business concessions. The rest are magical islands full of stunning natural sights which are fortunate enough to be protected as part of National Marine Park territory. This means that building and forestry of any kind are strictly prohibited, preserving the unspoiled quality.

• Travelling to the islands now is extremely easy. Both private speed boat rental or budget tour packages with a group are available for purchase.


Hin Daeng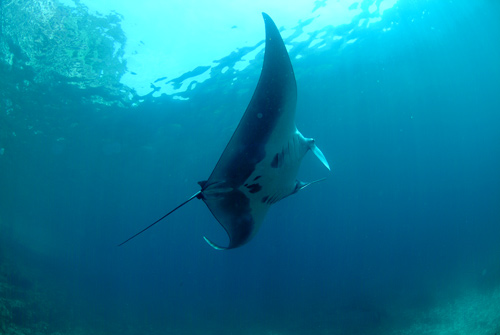 • Some 40 nautical miles south of the Lanta Islands lies one of the best dive sites in Thailand, indeed in the world. Just breaking the surface of the waters, Hin Daeng is a huge site with depths far below normal recreational limits. The south-west side of the sight drops by over 60 meters, creating a steep wall of soft corals.
• Leopard sharks are often seen in the area, and keep an eye out for whale sharks and manta rays. The east side has the best soft coral growth and 2 ridges that slope slightly into the deeper waters. Pelagic fish such as Jack hang out closeto the rock.
• In shallower areas moray eels are commonly found hiding in cracks in the rock face. Hin Daeng is also good for aquatic critters such as nudibranches, cowries shells and various species of shrimps.
• Hin Muong is a long rocky ridge just a few hundred meters and its bottom at 60-70 meters. It is actually connected to Hin Daeng, but the dangerous depth prohibits a dive between the two.
• Current can sweep quite strongly over the ridge, but you can always stay on the sheltered side. The surface of Hin Muong is covered in soft purple corals and anemones, and swarms of tiny silverside fish are constantly under attack from predators such as jack and trevallies. Leopard sharks are common here also.
Ko Ha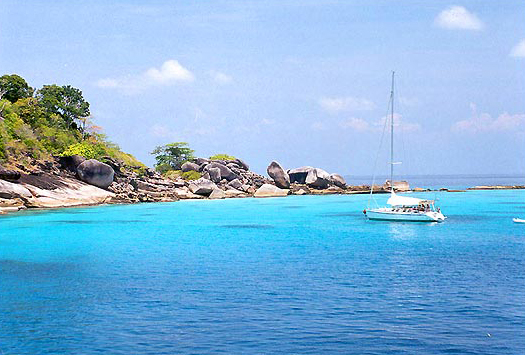 • Ko Ha lies between Ko Phi Phi and Hin Daeng, not far from Ko Lanta. Made up of 5 small islands (Ha means five in Thai) there is only one small beach in this group that is suitable for snorkeling and diving, offering several different dive site possibilities. The best of these is on Koh Ha Yai where you'll find 2 enormous caverns, their entrances at 10-14 meters depth. A dive is best started on the reef to the west of the caves, where there are some nice coral heads and fields of sea whips at a depth of 20-25 meters The cave at the end of this dive are certainly the highlight. You can surface once inside and see large stalactites hanging around your head, and the light coming into the caverns makes for some beautiful photographs. At the back of the east cave is a small hole leaving to a tunnel some 25 meters long, which ends in a small chamber. This should only be attempted by divers with appropriate training and experience who have the proper equipment with them.
Ko Ngai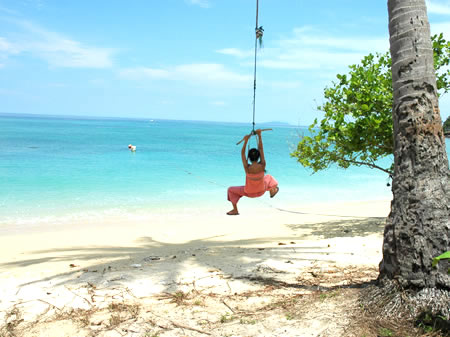 • General Thai people call this island Koh Ngai, but the island locals know it as Koh Hai. This is the island closes to Ko Lanta, just off the east side. The island is lush with verdant rainforest, secluded romantic beaches and a kilometer long reef that runs around the island. There are only 5 resorts here, making this island feels spacious and deserted.
• This coast is ideal for traveling the islands on a group or package tour, as with 5 islands lined up together-Ko Ngai, Ko Kradan, Ko Cheuk, Ko Waen, and Ko Mook, accessibility is easy. One of the highlights of any tour near here is always the Emerald Cave at Ko Mook, and the snorkeling at Ko Cheuk and Ko Waen are also marvelous.The flat island of Ko Kradan has one of the most beautiful beaches in Thailand.
Ko Phi Phi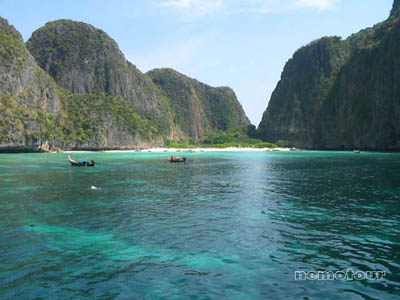 • Ko Phi Phi has been a world famous tourist attraction for over 30 years. Some visitors to the island may find it over crowded and more expensive than Lanta due to its popularity with regular tourists.
• If however, you've never seen Ko Phi Phi before, it is a trip that should not be missed.
• There are actually 2 islands, Phi Phi Don and Phi Phi Ley. Phi Phi Don offers many resorts and options for tourist accommodation and has 2 popular horseshoe-shaped beaches. But Phi Phi Ley is sparsely populated with few people living on it, retaining a certain charm, which was captured by Hollywood in the movie 'The Beach', in which Phi Phi's Maya Bay featured.
• Ko Phi Phi offers amazing natural sights unique to the area - very high limestone cliffs with waterfalls dropping vertically in the crystal clear sea below. And the snorkeling here really is second to none.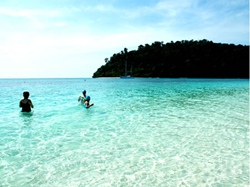 Rok Nai Island 


• is composed largely of formidable cliffs. On the east side are a fine sandy beach and coral gardens growing around sea rocks. On the northern side are San Jao Bay and Thong Bay.
Rok Nok Island

• The southeast and southern ends of this island have fine sand beaches and shallow water corals. Also not to be missed are Man Sai Bay and Talu beach. Transport to the island is via charter from either Pak Meng Beach in Trang Province or from Lanta Yai Island